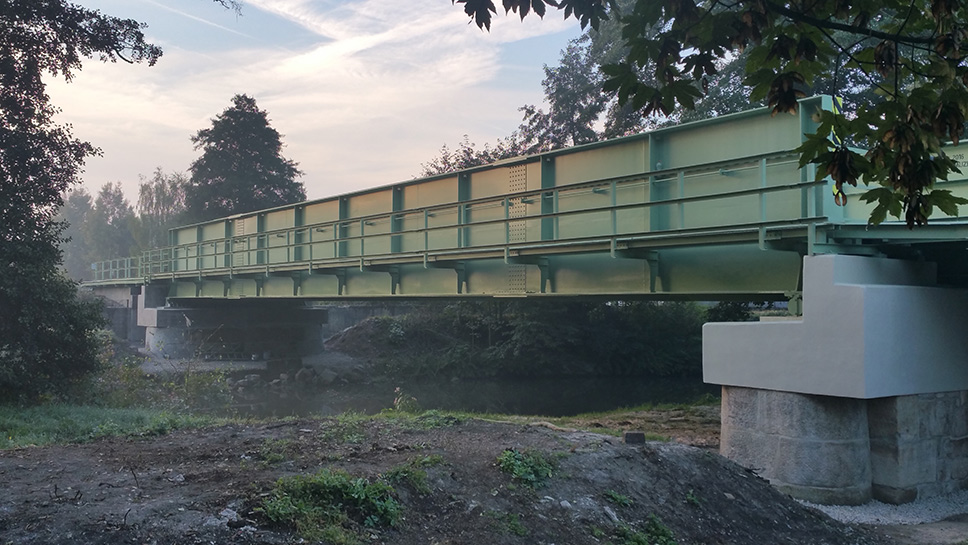 Our service
Sandblasting
Sandblasting is most commonly used as pre-treatment before application of coatings or before applying thermal zinc spraying. Sandblasting is also the most effective method to remove material from an old paint or rust.

It is primarily used for metals, metal products, steel structures, but also other materials, such as concrete, tile, facades, wood etc.
Metallization
Also known as arc or thermal spraying, provides excellent corrosion protection of elements, wherein metallic zinc, aluminum, or alloys of both (ZnAl15) are aplied on the element surface. Our company offers both metallization (metalizing, thermal arc spraying) and gas metallization.
For good adhesion, the surface must be sandblasted to Sa 3 - silver metal (ISO 8501-1).
Industrial Coatings
We provide industrial and anticorrosive coatings for a variety of atmospheric environments from the interior (C2) to hard outdoor industrial environments (C5).
When coating we use both conventional manual application and airless technology, which is an airless spray.
Interior Coatings
We provide all paintings and coatings, for example houses, industrial buildings, offices, hotels, bars, flats, facades, food processing plants, schools and more. We also perform preparatory work, such as relocation, concealment, and after completion of works cleaning.
For coating application in addition to traditional practies we also use high pressure airless technology.
Concrete remediation
We offer waterproofing and repair of concrete structures. Also, isolation against oil products, corrosion protection of both old and new concrete or masonry building structures according to customer requirements for durability of the structure.
Remediation of concrete structures is performed alone, including preparation of ground (sandblasting, mechanical cleaning) and the final final protection (protective coatings).
Facade cleaning
We provide renovation of buildings facades by cleaning them and applying new coating. Painting and cleaning the facades of houses is performed using scaffolding and if the situation allows using the platform MP13. For cleaning the facades we use a high-pressure device WAP (if necessary) and it´s mostly used to remove mosses and lichens.
Give your facade again a new look!